Published February 21 - 2019
Cali is not far from having problems due to air pollution or at least that is what the data say that since 2010 measures the 9 air quality stations of the DAGMA , which are still insufficient if we compare them with Bogotá, which has 14 official stations and the Aburrá Valley with 44 official stations and 275 citizen sensors financed by the Mayor's Office of Medellín; Stations that, unlike those in Cali, report their data in real time on their web pages. 9 air quality stations of the DAGMAwhich are still insufficient if we compare them with Bogotá which has 14 official stations and the Valle de Aburrá with 44 official stations and 275 citizen sensors financed by the Mayor's Office of Medellín; Stations that, unlike those in Cali, report their data in real time on their web pages.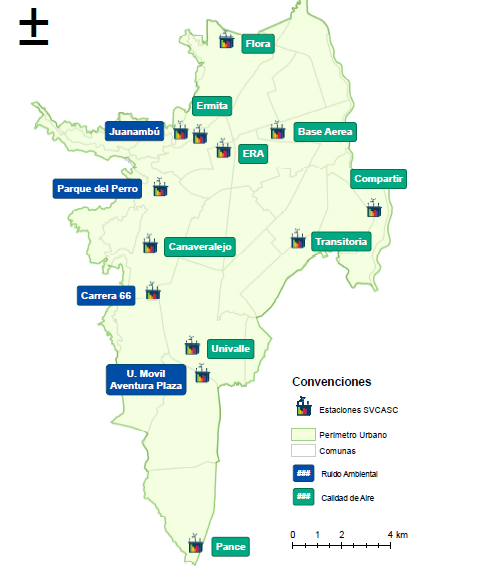 In mid-2017, with the intention of demystifying the idea that was repeated more and more that Cali had the purest air in Latin America and better understand how air quality is measured, I published a journalistic investigation entitled "This is how you breathe the air in Cali "where it is explained, among other issues, that there is no ranking of best cities, that air quality data cannot be compared because each city has different characteristics and, furthermore, not the entire city breathes the same air.
Among the research findings, we find that the nine stations that are currently operating were purchased in 1999, in the mayor's office of Ricardo Hernando Cobo Lloreda, but they only began to measure in 2010, in the middle of the mayor's office of Jorge Iván Ospina, that is, that apparently lasted 11 years without being used.
And although between 2012 and 2017 the DAGMA has invested about 2900 million pesos in "purchase of equipment, consumables, spare parts and cabins" and "management, operation, validation" of the Santiago de Cali Air Quality Surveillance System - SVCASC , still faces great challenges such as data intermittence, that only two stations measure PM 2.5 and that it still does not have a platform where they report the data in real time.
According to the ICA data per day uploaded to the national open data platforma request made by the Cali Open Data Community with the support of the Cali Mayor's Office of Transparency, monitoring stations such as Air Base, located in the Acuaparque de la Caña Calle 44 No. 7-138 and Transitoria, located on Carrera 28j with Calle 72u, report less than 70% of the data, the latter does not even report data since May 24, 2018. Also the ERA Station - Obrero, located at Cra. 11D No. 23 - 49, recently from January 1 to February 8, 2019 lasted more than a month without reporting data.
The stations measure Particulate Material less than 10 microns - PM10, Particulate Material less than 2.5 microns - PM2.5, Sulfur Dioxide - S02, Nitrogen Dioxide NO2, Tropospheric Oxygen O3 and Meteorology, data with which by means of a formula it yields a number between 0 and 500 known as the Air Quality Index - ICA and depends on the value is qualified with a different color similar to a traffic light.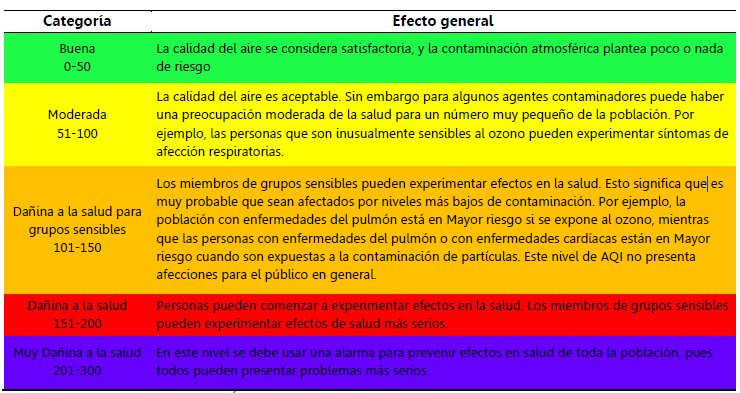 In this sense, the World Health Organization - WHO declared that PM 2.5 is the most dangerous pollutantsince they are particles up to 100 times smaller than human hair that lodge in the respiratory tract causing cardiovascular and respiratory diseases and cancer. Although in Colombia as of July 1, 2018, the standards with which it had been measured have improved, now having as maximum permissible levels of PM 10 and PM 2.5 for an exposure time of 24 hours 75 μg / m3 and 37 μg / m3 respectively , we are not yet close to what the WHO recommends which should be 50 μg / m3 and 25 μg / m3.
The fact that we have not officially had an environmental alert, because the strong winds in the city favor us, does not mean that the air in the city is not constantly deteriorating and we are close to a yellow or orange alert. Stations such as Univalle, Air Base, Compartir and Ermita, from the historical data reported, 80%, 83.2%, 47.6% and 30.1% respectively present a YELLOW ICA, which although it is acceptable for the population in In general, sensitive population groups or those with cardiovascular and respiratory diseases can present health problems, so they are recommended not to carry out physical activities outdoors.
According to the same data, in Cali there have been two days with ICA ROJO, the first on June 5, 2010 when there was a Mobile Station located in the DAGMA Municipal Nursery and the second on August 29, 2014 at the Univalle Station, apparently said the entity for a sugar cane burning near the Valle del Lili neighborhood, concentration levels that at least should have activated a level of prevention according to the norm.
2018 especially has not been a good year, the Univalle Station and the Air Base Station have been with ICA NARANJA for six and three different days respectively; while 2019 began with the first ORANGE ICA on January 1 at the Air Base Station. Also added is the case of the Cristo Rey forest fire that occurred on August 31, 2018which although it did not exceed the norm that says that the 24-hour moving average cannot exceed 75 μg / m3 for PM 10, equally According to the graph, at the Cañaveralejo Station, for almost 6 hours there were high levels of contamination.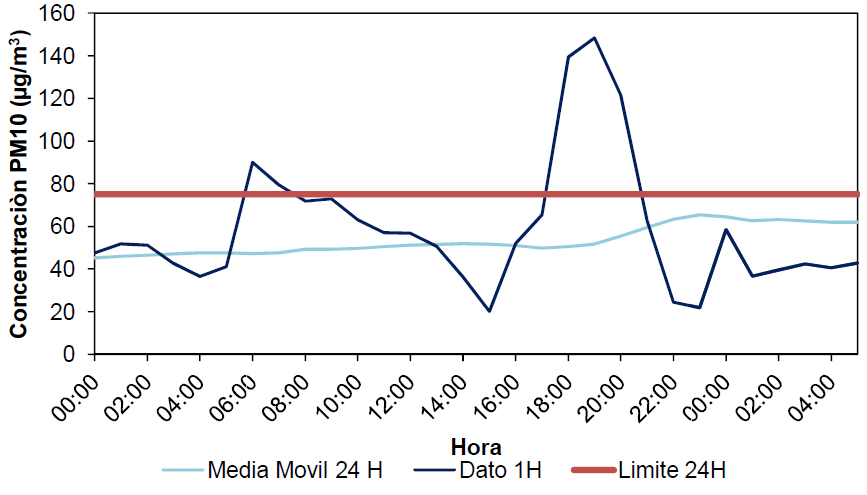 Although the DAGMA has made an effort to improve the delivery times and quality of the content of the reports, it is still insufficient, because it is essential that the data be reported in real time to take actions on time and also that it be proactively uploaded as quoted the Transparency Law in the national open data portal all the pollutants that are measured in the stations to calculate the ICA (PM10, PM2.5, S02, NO2, O3 and Meteorology), to facilitate academic research and social control in with a view to seeking joint solutions that contribute to improving air quality.
And it is not a merely environmental issue, the Study on health costs associated with environmental degradation in Colombia carried out in 2015 by the National Planning Directorate - DNP revealed that after Bogotá with 10.5% and the Aburrá Valley With 12.3%, Cali contributes 9.6% (1,317) of the total (13,718) of the deaths that occur attributed to urban air pollution, which generated costs estimated at $ 1.7 billion pesos, equivalent to to 5.6% of the GDP of the city.
However, while in the country deaths related to environmental pollution represent 7.5% of the total deaths per year, positioning itself very close to the causes of death due to smoking and obesity, the Municipal Public Health Secretariat of Cali, According to a response to a request for information in April 2018, does not handle mortality notification or analysis of causes of mortality related to air quality because according to the DAGMA in most stations, Air Quality - ICA "is considered satisfactory , and air pollution poses little or no risk ". Will we have to wait for an environmental alert to make the issue a priority for public entities?